Muos Niscemi, tutti i cablogrammi USA
US embassy cable – 09ROME346
ISAF: MOD LA RUSSA OFFERS SMALL INCREASE IN ITALIAN TROOPS, BIG INCREASE IN CARABINIERI
Niscemi Antennae Controversy: La Russa Willing to Weigh In
– – – – – – – – – – – – – – – – – – – – – – – – – – – – – –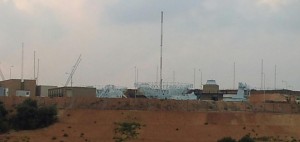 8. (SBU) Charge thanked MOD La Russa for MOD's defense before
Parliament of the U.S. Navy's planned satellite
communications installation near Niscemi in Sicily (Ref C),
and passed him informational slides on the project. She
noted that U.S. Navy technical experts had recently briefed
the Italian Defense General Staff (IDGS) on the negligible
health and environmental risks posed by the MUOS (Multiple
User Objective System) antennae to be built in Sicily under
the project (which MOD approved in 2006), and that the Base
Commander of NAS Sigonella was preparing to brief local
mayors. La Russa thanked her for her reassurance that the
antennae would not be harmful to local populations, and
indicated that he might use the slides to respond to queries.
CHOD Camporini indicated that IDGS was satisfied with U.S.
studies predicting that antenna emissions would constitute
less than one per cent of the current Italian and EU limits.
Looking for a SecDef Meeting
– – – – – – – – – – – – – – –
US embassy cable – 09ROME1132
SCENESETTER FOR SECRETARY GATES' OCTOBER 13 MEETING WITH MOD LA RUSSA
U.S. Basing: Cornerstone of U.S.-Italy Security Relationship
– – – – – – – – – – – – – – – – – – – – – – – – – – – – – –
7. (C) Italy is our single most important ally in Europe for
projecting military power into the Mediterranean, North
Africa, and the Middle East. Five major Italian military
base complexes (Naples, Sigonella, Camp Darby, Vicenza and
Aviano) host approximately 13,000 U.S. military and DOD
civilian personnel, 16,000 family members, and 4,000 Italian
employees. Increases or changes in this basing footprint can
be controversial with local politicians and we rely on
Italian political support at the highest levels, as we did.
GOI approval and support for the expansion project at Dal
Molin Airfield in Vicenza to accommodate the consolidation of
the 173rd Airborne Brigade Combat Team is a positive example
of this sort of collaboration. We may require La Russa's
help in the near future with a range of basing problems
including our request for GOI formal recognition of the
leased Navy Support Site at Gricignano (Naples) as a military
base under the NATO SOFA and Bilateral Infrastructure
Agreement, and approval for the construction of the Navy's
Mobile User Objective System (MUOS) global satellite
communications system at the Navy Radio Transmitter Facility
in Niscemi, Sicily. La Russa has, at our request, made
helpful public statements on the MUOS issue in the past. A
signal from you that we value his support in this regard
would help to focus his attention on the often arcane
technical and legal issues surrounding our military presence
in Italy.
US embassy cable – 10ROME83

SCENESETTER FOR VISIT OF SECRETARY GATES TO ROME
Getting to Yes on the MUOS Satellite Antenna Array
– – – – – – – – – – – – – – – – – – – – – – – – – –
3. (C) La Russa's help will also be crucial in securing
approval for the U.S. Navy's planned construction of a MUOS
(Mobile User Objective System) antenna site in Niscemi,
Sicily. A campaign of local political opposition in Sicily
has prevented the U.S. Navy from obtaining final approval to
begin construction of this fourth and final ground station
for the MUOS system. When it comes on line in 2012, MUOS
will allow U.S. (and NATO) troops anywhere in the world to
communicate instantly with headquarters in CONUS or
elsewhere. Given that the project is seriously behind
schedule (the Navy must begin construction by March 2010 or
contemplate moving the site elsewhere in the Mediterranean),
I have asked La Russa to help us make headway with Sicilian
ROME 00000083 002 OF 003
Regional President Lombardo, whose office has withheld the
necessary approvals. La Russa has agreed to do so, but
hearing from you that MUOS is a U.S. priority will spur him
to expend the substantial political capital in his home
region to ensure that the project moves forward.
US embassy cable – 10ROME172

SECDEF MEETING WITH ITALIAN MINISTER OF DEFESNE IGNACIO LA RUSSA ON FEBRUARY 6, 2010
1. (S/NF) SUMMARY: Secretary of Defense Robert Gates (SecDef)
met with Italian Minister of Defense Ignacio La Russa during
an official visit to Rome on February 6-7, 2010. La Russa
expressed deep appreciation for SecDef's visit and for the
chance to focus on bilateral defense relations rather than
only NATO matters. SecDef thanked La Russa for his personal
efforts to secure 1000 more Italian troops for operations in
Afghanistan. Discussions on Afghanistan also touched on
training for Afghan Security Forces, caveats on Italian
troops, and intelligence sharing. SecDef asked La Russa for
Italian government advocacy in recognizing NATO SOFA
jurisdiction in the case of Colonel Joseph Romano. La Russa
stated that direct U.S. intervention during the appeals
process would be the best way to successfully resolve the
matter. SecDef asked La Russa to assist in the resolution of
thorny force posture issues at Naval Support Station (NSS)
Gricignano and Mobile User Objective System (MUOS) Niscemi.
SecDef and La Russa agreed that further force reductions in
Kosovo must be dictated by conditions on the ground. La
Russa concurred that further pressure on Iran was needed and
committed that Italy would do what was asked to apply that
pressure. SecDef and La Russa also discussed the Joint
Strike Fighter program. END SUMMARY.
—————————
U.S. Force Posture in Italy
—————————
7. (S/NF) SecDef requested that La Russa take a personal
interest in resolving problems with NSS Gricignano and MUOS
Niscemi. He stated that lack of recognition of NSS
Gricignano as a military facility was a major problem and
that the security of U.S. forces was non-negotiable. On MUOS
Niscemi, SecDef requested that La Russa assist in securing
final approval for the site, noting that if construction of
the antenna did not begin by March, the U.S. might have to
look elsewhere in the Mediterranean.
8. (S/NF) La Russa told SecDef that he believed there was a
solution for NSS Gricignano, although current law does not
permit handing over security fully. La Russa proposed the
area be given a special status, after which a bilateral
agreement between the U.S. and Italy would allow the U.S to
assume security responsibilities. La Russa did not comment
on the status of MUOS Niscemi.
(fonte: Wikileaks)